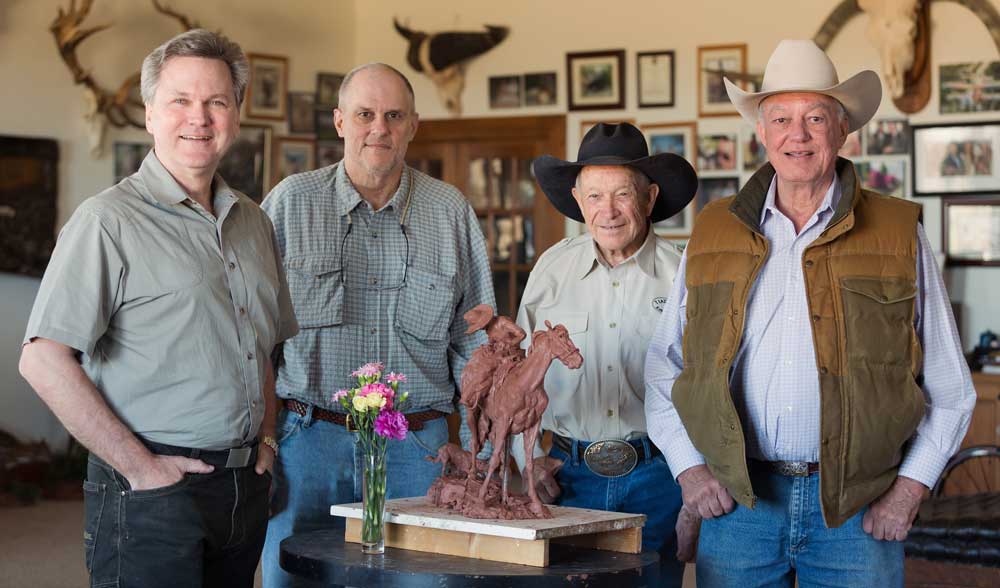 Sam Middleton along with other ranching names gathered together at T.D. Kelsey's home for a future featured article for Land Report Magazine. Eric O'Keefe, editor for the Land Report Magazine, will be covering Kelsey's life, ranch and artwork in the article set to run in the upcoming April issue. In his ranch home near Guthrie, Texas, Kelsey boasts an impressive gallery of his work.
Sam Middleton, owner and broker of Chas S Middleton and Son, sold Kelsey his ranch in King County, Texas. Middleton, who proudly displays two of Kelsey's sculptures in his office, made the introductions between Kelsey, O'Keefe and Henry Chappell, a writer for Land Report Magazine, and well known nature photographer, Wyman Meinzer.
Meinzer also has his own ties with Middleton, doing photography and videography for several high end properties listed with the company. As a writing and photography pair, Meinzer and Chappell have partnered on several occasions including Under One Fence: The Waggoner Ranch legacy. The Waggoner Ranch is a historic ranching property also connected to Middleton who jointly brokered the sale of the ranch back in 2016 at a listed price of $725,000,000, which remains the largest contiguous ranch property sale in the United States. The property encompasses approximately 535,000 acres. Eric O'Keefe's Land Report Magazine describes the Waggoner Ranch sale as the "Deal of the Century".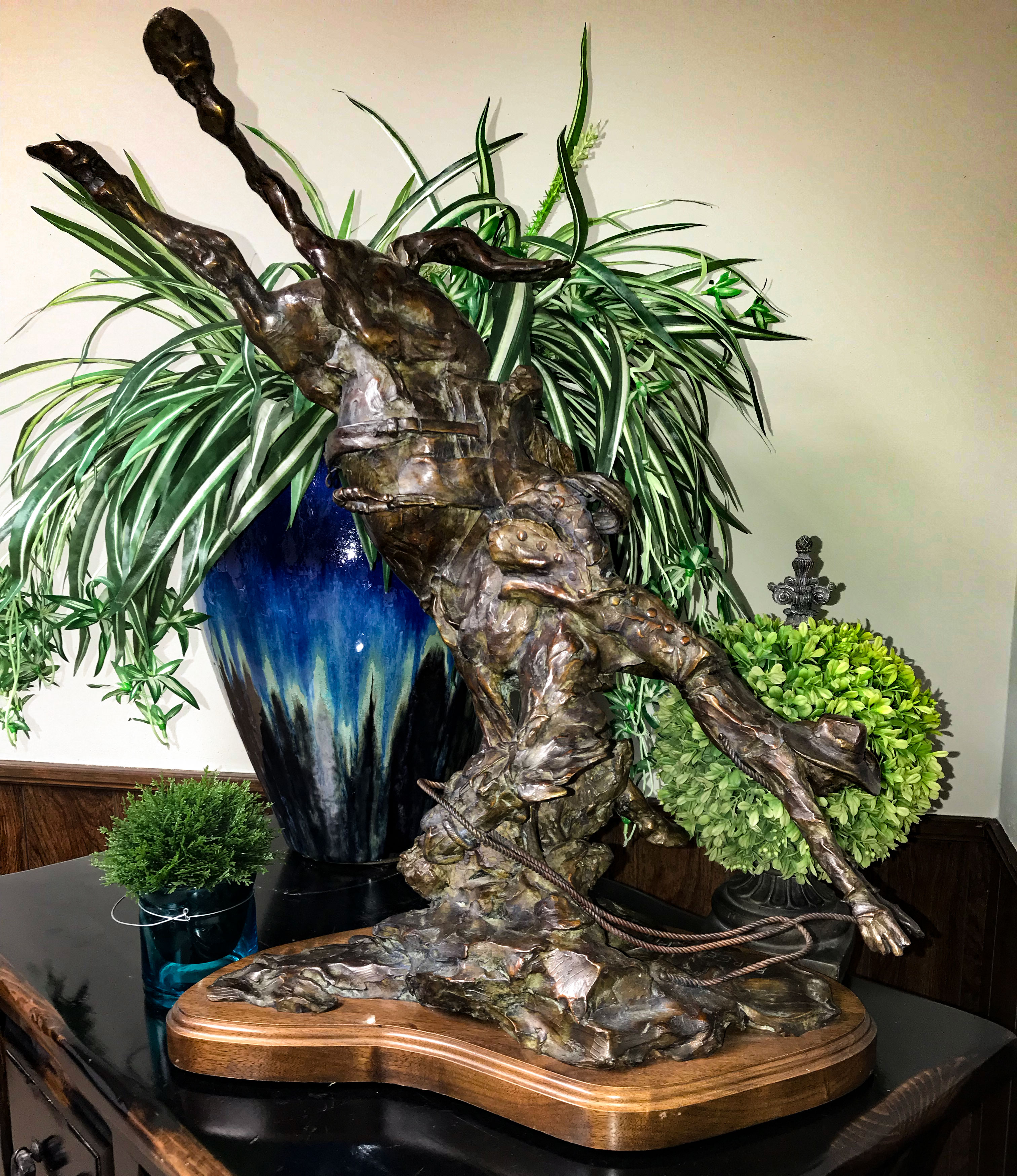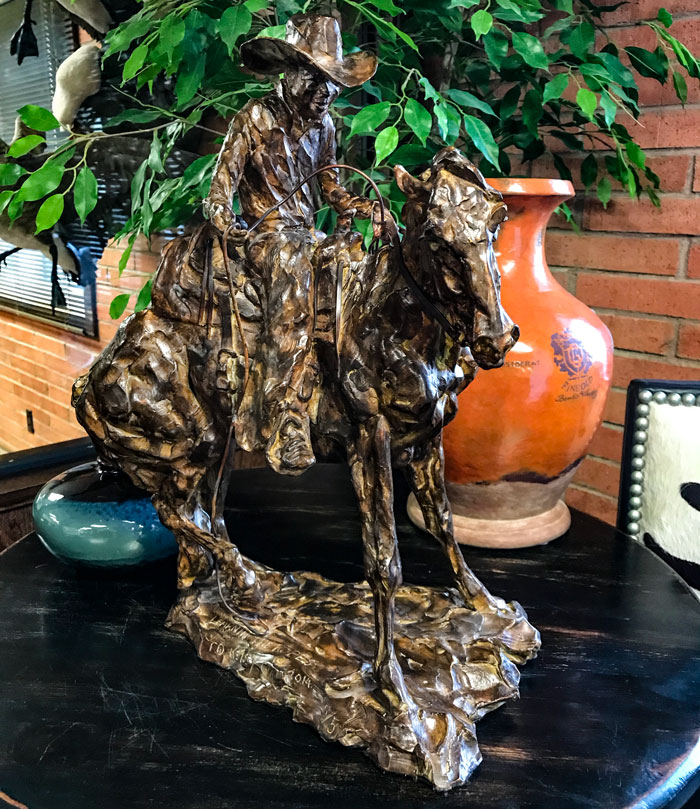 T.D. Kelsey
T.D. Kelsey is known for his intense, impressionistic sculptures that capture the spirit of his subjects. Since 1979, Kelsey has been devoted full time to his art work. An avid traveler, T.D. has visited many countries on every continent except Antarctica, drawing and sculpting people and animals from all corners of the world in addition to his western subjects. Kelsey's work is found in private and public collections worldwide. He is a member emeritus of the Cowboy Artists of America, fellow of the National Sculpture Society and was honored with a one-man show at the Thomas Gilcrease Museum where he has work on permanent display. He also has sculptures on permanent display at the ProRodeo Hall of Champions Museum, the C.M. Russell Museum, the National Museum of Wildlife Art, The Colorado Historical Museum, The Texas Interpretive Center, the Buffalo Bill Historical Center, the Briscoe Museum, the Old Town Museum in Elk City, Oklahoma, Owensboro of Fine Art and two museums in Spain.
Eric O'Keefe
Eric O'Keefe is the co-founder and editor of the American Landowner, Land Report Magazine and LandReport.com. He is a frequent contributor to The New York Times. His analysis and opinions have been chronicled in The Times, The Wall Street Journal, Investor's Business Daily and on such programs as Entertainment Tonight and Fox Business, among others.
Henry Chappell
Henry Chappell is a prolific and award-winning outdoors and wildlife author who serves as a contributing writer for Texas Parks and Wildlife Magazine. He also regularly writes for Texas Wildlife and has authored two novels, The Callings and Blood Kin.
Wyman Meinzer
Wyman Meinzer is a nature photographer who boasts the title of the official State Photographer of Texas. He has published 17 photography books as well as having over 250 published magazine covers to his name.
Sam Middleton
Sam Middleton is the owner of Chas S Middleton and Son, a farm and ranch real estate firm founded by his grandfather in 1920. The company represents both buyers and sellers in land purchases as well as rural appraisals covering a wide geography in Texas, New Mexico, Kansas, Colorado and Oklahoma. Sam Middleton has enjoyed a 48-year career and is now grooming his son Charlie to take over as the fourth generation.