Chas. S. Middleton & Son is pleased to announce that Wyman & Sylinda Meinzer have joined us as a Real Estate Sales Agent team.
Wyman has been a part of the extended CSM family for a while shooting photography & videography for several of our properties. Many times during a day of shooting, Wyman would comment to owner, Sam Middlton, that he might have a buyer for the property. After several of these instances, Sam finally asked "Why don't you get your real estate license and come sell with us." The rest as they say is history.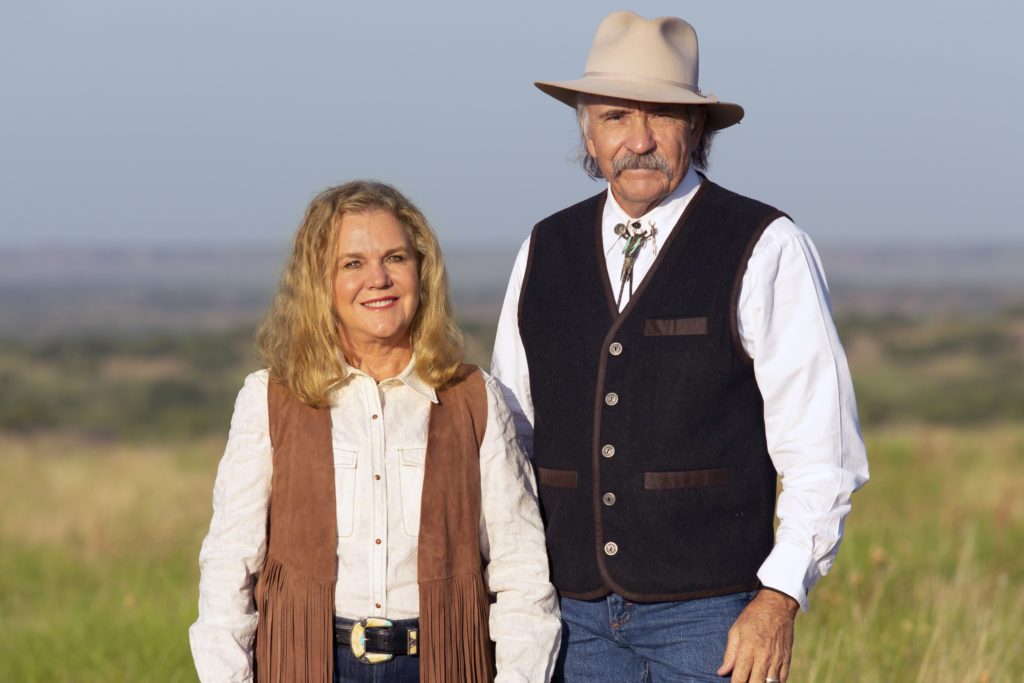 Wyman Meinzer
Born in 1950, Wyman was raised on the 27,000 acre League Ranch as a cowboy and consummate outdoorsman, in Knox County of the Texas rolling plains.
Meinzer graduated from Texas Tech in 1974 with a Bachelor of Science degree in Wildlife Management. He was voted "Outstanding Alumnus" in 1987 by the Department of Range and Wildlife Management at Texas Tech University "in recognition for his contribution to wildlife management through writing and photography". He also received the "Distinguished Alumnus," award in 1995 from the School of Agricultural Sciences and Natural Resources in "recognition for professional achievement and contribution to society." In August of 1999, Meinzer was honored to give the graduation commencement address at his alma mater. He was asked to become an Adjunct Instructor in the College of Mass Communications in 2000, teaching for a period of 12 years. During tenure as instructor of senior and graduate level students, he was selected "Mass Communications Teacher of the Year," in 2005. From 2000-2002 Wyman served on the "Range, Wildlife and Fisheries Management," advisory board at Tech. In 2009 he received the "Distinguished Alumnus Award," from Texas Tech Alumni Association in recognition of outstanding achievement and dedicated service.
Post graduation Wyman spent five years as a professional predator hunter on the big ranches of the rolling plains, living out of a half dugout on the Pitchfork Ranch. During this period he worked to perfect his photographic skills and now, after 40 years as a professional photographer, Wyman has photographed and/or collaborated on 27 large format books, and his images having appeared on more than 250 magazine covers throughout America. His images have appeared in Smithsonian, National Geographic Books, Natural History, Ebony, Time, Newsweek, U.S. News and World Report, Audubon, Sports Afield, Field and Stream, Outdoor life, Texas Parks and Wildlife, Texas Highways, Korea GEO, German GEO, Das Tier, Airone, Horzu, BBC Wildlife, and a host others.
His writing endeavors have also appeared in dozens of magazines including "The Smithsonian,"magazine, "Outdoor Photographer Magazine," "Sports Afield," Texas Parks and Wildlife," magazine, "Texas Highways," Texas Wildlife Association," magazine, "Petersen's Hunting," magazine, "Korea Geo," "Field and Stream," and many others.
Honors include: "Official State Photographer of Texas," by the 75th Texas State Legislature, the "John Ben Sheppard Jr. Award," from the Texas State Historical Foundation for contributing to the preservation of Texas History through writing and photography, 1997 "National Literary Award," for the book, "Texas Lost: Vanishing Heritage," (with author Andrew Sansom), the "San Antonio Conservation Award," for the natural history book, "Roadrunner,"  Wyman's first book endeavor, the 2000 "Charley McTee Outdoor Media Award," from the Texas Wildlife Association, the 2003 "Star of Texas Award," from the Gillespie County Historical Society with author John Graves for their collaborative work, "Texas Hill Country," and in 2011 the "Texas Heroes Hall of Honor," from the Frontier Times Museum in Bandera, Texas, and "The A.C. Green Literary Award," presented to a distinguished Texas author for lifetime achievement. Meinzer has been selected to receive the 2018 "Harvey Weil Living Legacy Conservation Award'" for his art inspiring others to engage in conservation. The Harvey Weil Foundation has given this award only three times previously. Field & Stream named Wyman one of America's Outdoor Legends in the February/March 2018 issue of the magazine. Also, Meinzer's work hangs in perpetuity at the George W. Bush Presidential Library on the SMU campus, and in the Ross Perot Museum.
Meinzer is a self-taught photographer and historian who lives in Benjamin with his wife, Sylinda. Along with his photography, Meinzer loves hunting with rifles, pistols and bow, as well as flying and wood work.
David Baxter, former editor of Texas Parks & Wildlife Magazine, described Meinzer best when he called him a man with the eye of a nineteenth-century impressionist painter and the soul of a buffalo hunter
Sylinda Meinzer
Sylinda Meinzer was born in Brownwood, Texas and grew up on 1000 acres learning to appreciate the land and the significance of conservation of the natural resources for future generations.  This land has been held by the family for 3 generations.  Cattle and farming operations are still the mainstay on the land.
Sylinda graduated from Bangs High School and attended San Angelo State University where she graduated with a Bachelor of Science Degree in both English and Physical Education.  In 1989 she attained her Certificate to teach Mathematics and soon after took over as the secondary math chair at Bangs High School.  While there she developed and implemented a program of intensive study to help the math students master their TAKS test.  In 1996 she attained her Masters of Education/Mid Management degree (MEd) and then her Superintendent's Certificate in 1999.   
After marrying Wyman Meinzer in 2001, she decided to leave education, and because of her love of the the land, decided to start a publishing company named  Badlands Design and Production.  As editor in chief,  she has published seven large format coffee table books showcasing her beloved Texas.  Some of the titles include, Inspiration Texas Style, Southern Plains Bison: Resurrection of the Lost Texas Herd, Charles Goodnight: A Man for All Ages, Working Dogs of Texas, Horses to Ride, Cattle to Cut: The San Antonio Viejo Ranch of Texas, and Under one Fence: The Waggoner Ranch Legacy.
Meinzer received her Texas Real Estate License in July of 2019 and is delighted to join the team at Chas. S. Middleton and Son Farm and Ranch Real Estate.